MoonFall – a very, very, very cunning plan to shoot the Moon
The week prior, top-ranked crypto project LUNA and UST stablecoin suffered a centralised attack on its decentralised protocol (May 4th to 11th), with ripple effects unto DEI stablecoin depegging. Algorithmic stablecoins have potential vulnerability to depeg if not collateralized sufficiently.

In the case of the UST, it was open to a $1billion Soros/Black Wednesday type attack, even with a modest reserve pool of more than 80,000 btc ($3 billion worth).

Once the stablecoin depegs, liquidity drained, this inevitably leads to mass sell-offs, further depressing the overall value of the ecosystem & cryptoeconomy as a whole.

It was a crypto bank run heist.

Meanwhile, Institutional investors "bought the dip" (BTD).
This saw a hefty $298.6 million of monetary inflow flooding into bitcoin the week of May 9th – 13th, buying into the historic weakness. Purpose Bitcoin Futures ETF bought $284.8 million worth – 95% of the BTD moment, with BTC at $27,000.

Retail investors, could likewise make great gains by making smaller blended investments as we approach the bottom of the bearish sentiment over the next few months. Rather than trying to predict the exact bottom, any investments now will still be profitable on the upswing as we approach the 2024 bitcoin halving.

As such, let us look at the recent May events from both the personal cost and centralised destruction of LUNA and UST.

Since the depegging of UST, there has been great upswell and integrity to revive the ecosystem of LUNA 2.0; as Terra Luna Revival Plan – with Binance and major holders opting to compensate the smallest retail investors first.

For context, Binance has holdings of 15,000,000 LUNA worth $1.6 billion. Originally, LUNA was given to Binance in exchange for a $3M investment.
"To lead by example on PROTECTING USERS, Binance will let this go and ask the Terra project team to compensate the retail users first, Binance last, if ever," said CZ (Binance CEO, Changpeng Zhao).

In his final tweet, CZ simply wrote, "Protect users".
As such to navigate the way forth, let this be both a precautionary tale when evaluating the potential of a cryptocurrency project and also the potential for directly owning the Internet of Smart Money.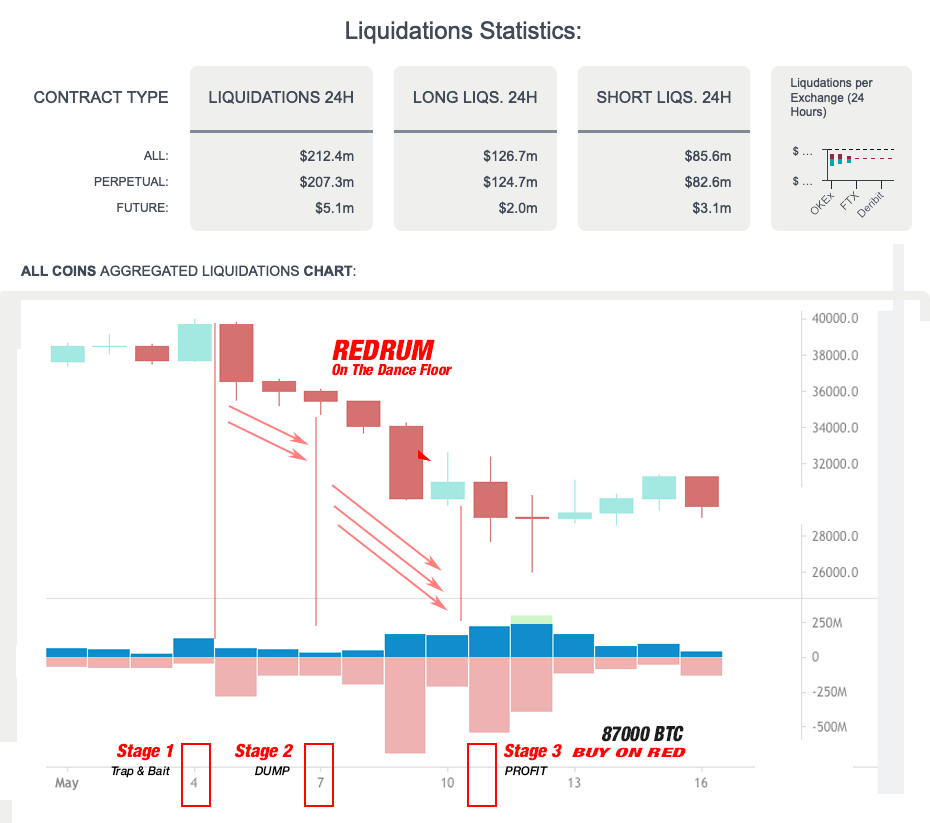 LFG & Singapore Relocation
Details have emerged that the Luna Foundation Guard (LFG) and Terraform Labs relocated to Singapore for tax purposes according to SBS News.

For the relocation, an application to dissolve the company was made on April 30th. On May 4th, the application went through and Terraform Labs ceased its status as an entity in South Korea.

This has re-activated Seoul's infamous "Yeouido Grim Reaper" specialized financial crimes unit to jointly investigate the collapse of the Luna & Terra Coin, and the methods Terraform Labs used to attract investors.

In two seperate investigations, Kwon is personally facing a tax bill of 100 billion won ($78 million) for evading corporate and income tax payments. Whilst a separate 100 billion won fine to LFG is being prepared due to continued operatons by LFG domestically.

May the Fourth to 11th

Following the centralised attack and drainage of liquidity of UST, the overall value of LUNA was lost ($19.5 billion from $20.19 billion TVL).

The proponents timed this cunningly to coincide with the May 4th, FOMC announcement of a 50 bps rise in interest rates, and sunseqeuntly initiated a further dump of bitcoin during the CPI report.

The speculative rumour suggests that a loan 100,000 bitcoin (BTC) was enginered and swapped for 25% UST *. This drained the immediate liquidity of UST. Once this was concluded, a follow up centralised attack involved dumping the UST and BTC, crashing UST's sister LUNA token along with the price of bitcoin (to below $28500).

It did not help that Anchor protocol was offering insane yields of 20% as an initial "customer acquisition strategy" if one was being generous. As such 72% Terra was deposited in Anchor, and when the rug was pulled..the whole hosue of coins dissolved in a puff of digital hopium and dreams.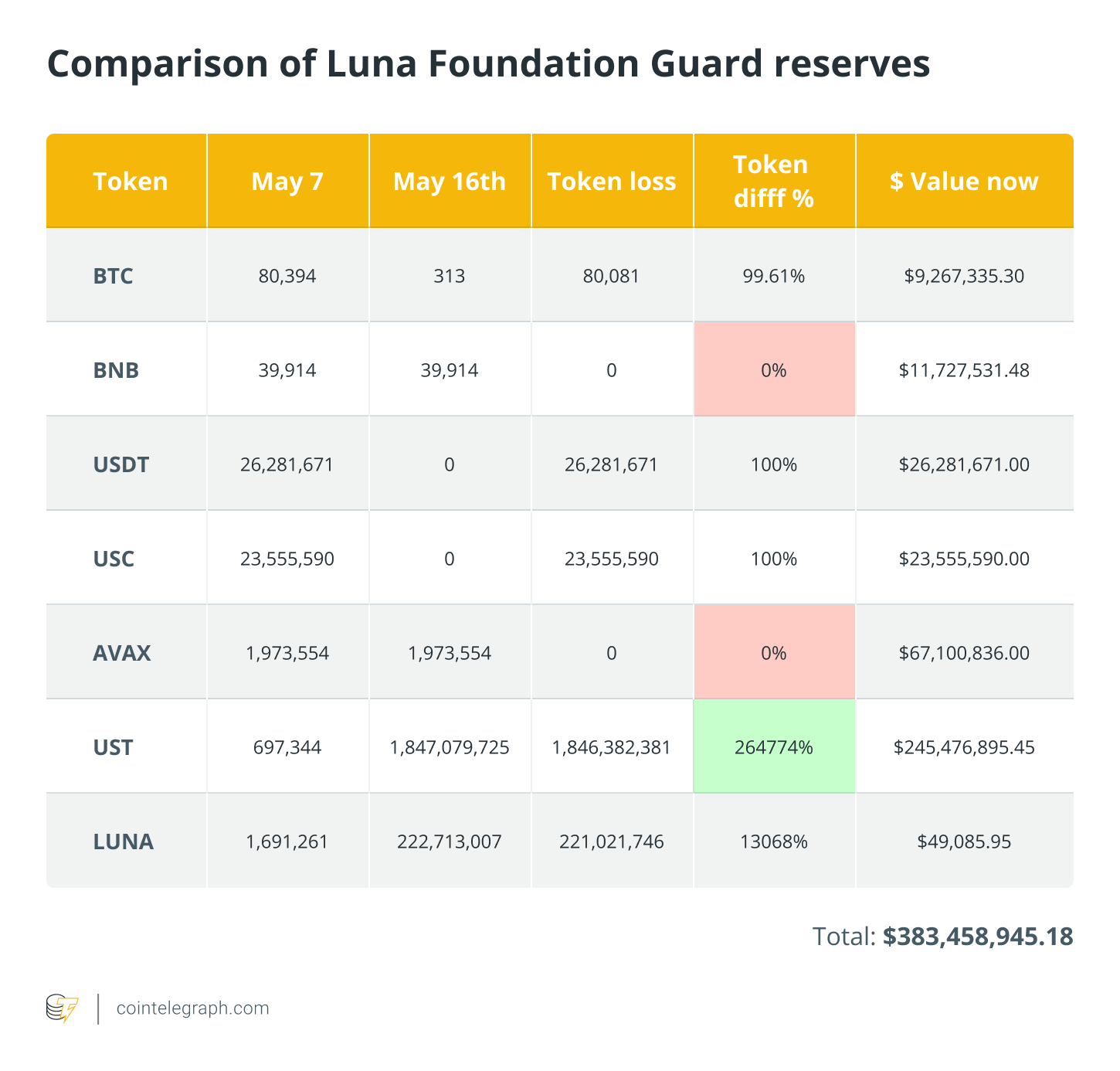 Interestingly, the Luna Foundation Guard (LFG) effectively depleted its BTC reserves of 80,082 bitcoins to 313, whilst 87,000 BTC was exchanged on binance (May 7th to 10th).

The counterparty that the LFG group used has not been named
"The Foundation is looking to use its remaining assets to compensate remaining users of $UST, smallest holders first. We are still debating through various distribution methods, updates to follow soon."

However, details have further emerged that Do Kwon, had personally transferred an additional $2 billion reserves through the LUNA foundation to further shore up LUNA and UST; transferring 52,189 BTC thru Gemini and 28,205 BTC to Binance in the event of a crash.

Overall, there was a coordinated massive market manipulation & criminality amounting to the tune of $1.2 billion of crypto futures liquidated within 24 hours (May 9th to 10th).

This is likely what happened.

LUNA II: LUNA RECOVERY PLANS
After the sudden shocking demolition of UST stablecoin, the remains of the LUNA ecosystem and dApps might potentially still be salvaged. At its height, LUNA was worth $100, and within a week it had lost all its value.

Robust projects, ultimately have strong fundamentals of everyday use case, storage of value and mass adoption usage.

Other types of digital assets can range from Alt coins to meme coins, whereby popularity, hype, and good marketing may influence the surge pwards or downards of a particular token.

As such, when considering a crypto ecosystem:
Is there a viable roadmap?
Sources of funding
Everyday use case
Storage of value
Decentralised Applications
Interoperability
Worst Case Scenario
The LUNA revival plans proposed by founder Do Kwon involved a hard fork into a new LUNA devoid of the algorithmic stablecoin TerraUSD, and a Luna Classic (LUNC). This was initially rejected by 90 per cent of the preliminary voters.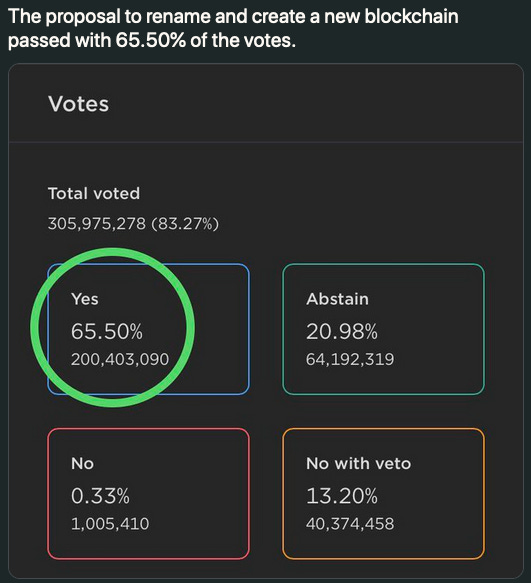 Terra Ecosystem Revival Plan2 (passed): Proposal 1623 was finally supported with 200 million votes, heralding the rebirth as Terra ecosystem with #LUNA 2.0 on May 27.

Specifically, this involves a new layer-1 Terra blockchain without its algorithmic stablecoin called Terra (LUNA), with the old blockchain called Terra Classic (LUNC).

"With overwhelming support, the Terra ecosystem has voted to pass Proposal 1623, calling for the genesis of a new blockchain and the preservation of our community."

Terra will airdrop tokens to community members tiered on a pre attack and post attack LUNA event:
30% to its community pool.
35% to pre-attack LUNA holders.
10% to pre-attack UST holders.
10% to post-attack LUNA holders.
15% to post-attack UST holders."Regardless of your category, you will get 30% of your airdrop at genesis (May 27), and the rest vested linearly over 2 years with a 6 month cliff."

Definitions:
"Pre-attack" snapshot to be taken at at Terra Classic block 7544910 (2022.05.07 22:59:37+08:00)
"Post-attack" snapshot to be taken at Terra Classic block 7790000 (2022.05.27 03:59:51+08:00)

Timeline
05/17 – Announcement out
05/18 – Governance proposal out
05/21 – Terra Core release is cut, network launch instructions made available for validators
05/25 – Essential app developer registration completed
05/27 – Genesis file created from final launch snapshot
5/27 ~ Network launch
At present, the actual number of exchanges that will support the launch of LUNA 2.0 are unclear. Essentially, pre-attack LUNA holders will get an airdrop close to 1:1 whilst those post collapse will get just 1:0.000015.

LUNA is currently trading at $0.00016
"We are working closely with the Terra team on the recovery plan, aiming to provide impacted users on Binance with the best possible treatment. Stay tuned for further updates." – Binance


Algorithmic stablecoin UST was a moonshot.

On paper, it looked fairly attractive, with the quest to seek the monetary holy grail. However the risk of depegging was always inherent for algorithmic stablecoins, and in this case for LUNA an opportunity for the SEC to introduce regulatory frameworks for stablecoins.

This centralised attack, regardless of the entities involved represents an overall weakness to overcome as a community.

Let us work together to overcome this as a community, and collaborate with the best efforts, minds and integrity to create wealth and cumulative profit together within the crypto sphere.